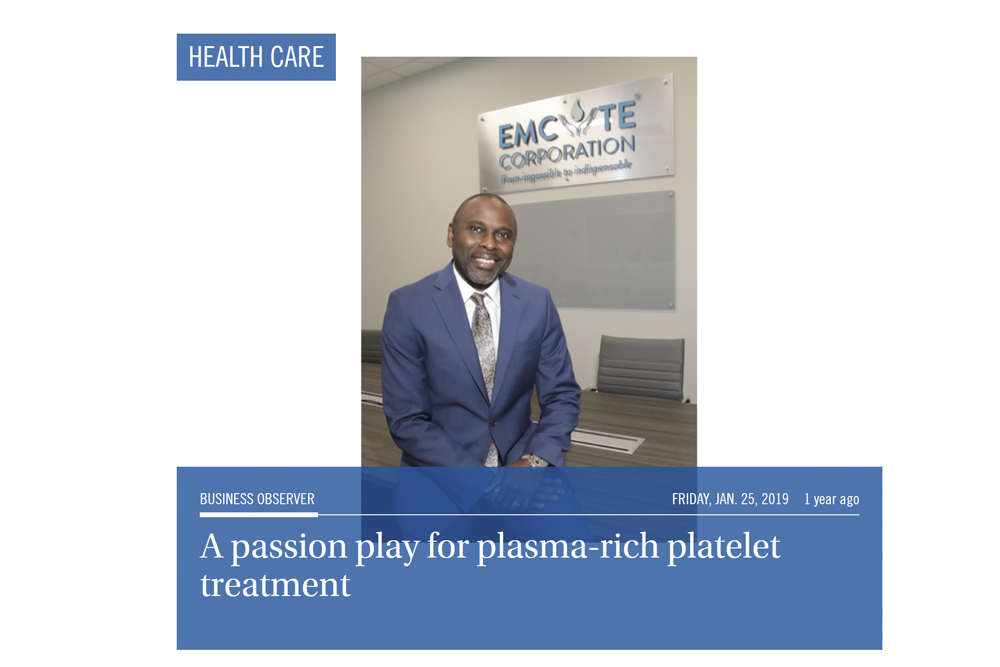 ---
Patrick Pennie is profusely passionate about patient care and treatment outcome.
That's how the former cardiac surgery perfusionist pioneered and proliferated platelet-rich plasma and progenitor stem cell biologics treatments for injuries and non-healing wounds. (A perfusionist operates a heart-lung machine.)
Two decades after creating the treatment protocol while working at Lee Memorial Hospital as a critical care and open heart surgery nurse, Pennie's Fort Myers-based company, EmCyte, is recognized as a global leader in the production of FDA-approved platelet-rich plasma treatment kits. These kits offer orthopedic patients a regenerative autologous healing option to traditional treatment methods, including surgery.
Founded in 2008, EmCyte has weathered competition from global medical device manufacturers by remaining private, nimble and focused on patient care. Pennie employs 40 in his 30,000-square-foot facility in Fort Myers, where the company manufacturers thousands of disposable PRP kits per day. They are delivered by hundreds of distributors worldwide.
Being a business owner was never his goal, however. His passion was patient care, and it's that focus, Pennie says, that helped the company outlast competitors that imitated his innovation. Along the way, he's also learned how to steer through challenges inherent in selling something new in health care.
"I never went to business school because I never intended to do business," says EmCyte Chairman and CEO Pennie, who started his career in 1987. "Still, I've been able to navigate the field, deal with competitors and protect our (intellectual property). We have longevity and sustainability because we have been in this business since the inception of this treatment. It took a lot of sleepless nights, a lot of research and a lot of reading and learning to maneuver and understand the market."
In 2002, Pennie developed the Secquire Platelet Concentrating System. Ten years later he introduced the PurePRP Concentrating System — the first and only point-of-care PRP system that prepared clinical platelet rich plasma without red blood cell content.
EmCyte's products provide point-of-care treatment. Blood or marrow is extracted from the patient, concentrated into its purest form in a centrifuge, and the resulting platelet-rich plasma is injected into the injured tissue, prompting regenerative healing. The entire process is an outpatient procedure that takes no longer than four hours.
"It's usually just one injection, there is no downtime and then the healing happens," says Pennie. "It may be a little painful at first, but that goes away quickly and over time it just gets better. We have patients who go about their daily activities and forget they had an injury. I've had it myself so I know how well it works."
Physicians who administer PRP treatment are not reimbursed by insurance, so the cost is entirely paid by the patient. Pennie says those costs average $1,500 to $3,000 for the one-time treatment, but is typically less expensive than deductibles for surgery. There is also no downtime or follow-up physical therapy required.
"The patient could be looking at arthroscopic surgery or knee replacement," Pennie says, "and they will choose regenerative medicine first because even if a knee replacement is covered by insurance, you still have a deductible, and most people have high deductibles."
The cost of the EmCyte PRP kits averages $225 to $275 each. A one-time cost for a tabletop centrifuge is $3,800. EmCyte manufacturers thousands of disposable kits per day, which the company markets to clinics through medical supply distributors across the United States and Europe, South America and Canada.
Pennie prefers to keep EmCyte privately held, he says, because it allows him the freedom to use net revenue as he sees fit. "I don't like to be restricted, which is why I choose to remain private," says Pennie. "If I need to focus on developing something I think is going to be beneficial to the patient, I can put the money into it without having to answer to investors."
That flexibility, Pennie says, allows him to focus on his own marketing strategy, based on developing relationships with distributors and clinicians to develop products rather than solely on profits. He declined to disclose revenues, but adds, "We're doing very well."
More patient care focus: On Jan. 21, EmCyte launched Gulf Coast Biologics Training Center in Fort Myers, a new and independent regenerative medicine scientific and educational institute. Its purpose is to establish and standardize evidence-based clinically scientific treatment methodology and to educate and train practitioners.
"I've always focused on improving patient outcomes and improving the patient experience," says Pennie, "and from that perspective, to develop an infrastructure so we manage the type of care that is being provided."